CORPORATE TENNIS DAYS & TEAM BUILDING
'Serve' up a unique alternative for your next event by hosting a Corporate Tennis Event at the State Tennis Centre. This ideal mix of business and pleasure is sure to 'ace'it with colleagues and clients alike. A range of competition and particpation formats can be implemented to ensure that all skill levels are catered for and all participants have the opportunity to mix and network throughout the event. so why not join us at the impressive State Tennis Centre for freindly competition on Grand Slam surfaces followed by a cocktails and capapes under the stars on our Open Deck.
Whether it's a bit of hit-and-giggle, some impassioned doubles or a lively Cardio Tennis class, Corporate Tennis is a fantastic way to network with clients or bond with your work colleagues.
So to ensure your next event is a 'smash' rather than an 'unforced error', get the 'advantage' and contact the Functions Team at the State Tennis Centre for more information and to reserve your place!
Choose from the following packages...
1. Social Round robin and Twilight Drinks
2. Mini Coaching Lesson with Round Robin Tournament & Twilight Drinks
3. Cardio Tennis and Twilight Drinks
4. Or design your own package to suit your requirements and budget!
For more information contact Elle or Fraya at stcfunctions@tennis.com.au / 6462 8300.
OPEN DECK/CAFE
This semi enclosed Inside/Outside Open Deck/Bar space is perfect for those Cocktail evenings, Sundowners, BBQs or to relax for a drink after a Corporate Tennis Day. The deck area can cater for around 200 for a cocktail style event, around 100 for Banquet.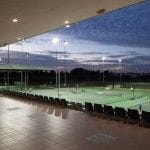 THE BIG TOP
Under the Big Marquee its a unique outdoor venue in Perth, perfect to host large events like Trade shows, Car Shows, Expos & Christmas Events. Located at the State Tennis Centre, Burswood, it is situated just 5 minutes from the city on the scenic Burswood Peninsular, making it ideal for those looking for a venue with a difference.
With ample free parking and is easily accessible from the Graham Farmer Freeway or Great Eastern Highway.